It's that time of year...
Philadelphia Fringe Festival time!! This year, PINK HAIR AFFAIR has decided to for-go a show so that we can participate in the Fringe festivities a bit more. We did however perform a score (by Laura Jenkins) at Make It, Break It, Rebuild It on September 7th.  It was a FREE show for the Philly Fringe involving art installations and other dancers/performers....
http://www.facebook.com/events/278320622260036/ →
Watch
Getting ready!
Well Pink Hair Enthusiasts,   We have been pretty busy rehearsing and planning "Take It Off… and feed me".  With time coming close we are scrambling for last minute food innuendo's, press releases, marketing and digging through our drawers for our fishnets and corsets.   Come hang out with us at our FUNdraiser, next Saturday, March 10th 5-9pm in Northern Liberties!  Help...
Anonymous asked: Is it possible to purchase tickets to the "Take it Off and Feed Me" show online? I am thinking the 9:00 Saturday the 24th?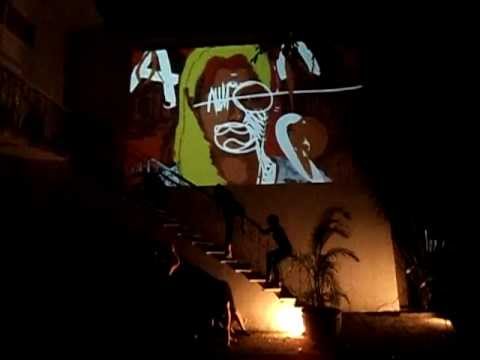 And we're back!
After a much needed recess, Pink Hair Affair is back in the studio. Since January, we have been rehearsing for our next show, "Take It Off… and feed me" our third annual burlesque show with your host, and PHAdvocate Anne MacGillivray Wilson! Check back for information! Directed again by Laura Jenkins, this years burlesque-inspired performance will leave you drunk and hungry....
Let The Night Be Dark
It's show time! E-mail laura@pinkhairaffair.com for ticket reservations! Seating is limited, however standing room will be available if need be. Tickets $10 (CASH ONLY please). NOVEMBER 18 & 19, 2011 @ 8pm Let The Night Be Dark Artistic Director: Kaleigh Jones Mascher Space 155 Cecil B. Moore Ave Philadelphia PA 19122 Come support the ladies of Pink Hair Affair, and help us put...
1 tag
Check out our next show!
We're at it again only a short few months past Fringe to bring you "Let The Night Be Dark" directed by Kaleigh Jones.  Check it out. PINK HAIR AFFAIR brings you a movement filled night on women's acceptance – what's expected of them or what they choose. Philadelphia, PA – Kaleigh Jones' showcases her choreography for Pink Hair Affair's "Let The Night Be Dark".  A show based on...
Watch
A little mash up of Pink Hair Affair choreography.
Watch
FUNdraiser @ Gallery ML
Thank you!
Thank you to everyone who came to our 5th Philly Fringe show.  It was a fun time… now we're working on our next project and will keep you posted! If you'd like to help us out for our next performance, check out our website on ways to donate. www.pinkhairaffair.com To a great Philly Fringe!
We're back from summer vacation!
PHA has been busy enjoying the heat waves, earth quakes and hurricanes… and now it's time to buckle down and get ready for Philly Fringe 2011! We've been rehearsing like crazy to our 70's jams to bring you guys a fun, light hearted performance based on the Seventies — One City Under A Groove! If you came to our fundraiser at Bob and Barbara's last month you...
4 tags
"I intend to work for this dance of the future. I do not know whether I have the..."
– Isadora Duncan
"We dance for laughter, we dance for tears, we dance for madness, we dance for..."
– Author Unknown
Merry Christmas!
Hope everyone has happy and safe holidays this season!  Look for us in 2011, new site, new structure, new ideas, new works, new shows. Happy New Year!
12 tags
"Coming together is a beginning; keeping together is progress; working together..."
– Henry Ford